The internet is a vast resource of data and information available for all our needs, but it can also be a frightening place. With the fast-developing technologies, no one is safe from the negative sides of the internet, which is why it's essential to have the best VPN service to protect your online privacy and security.
From getting your private information stolen by hackers to being monitored by certain government sites, your privacy and security are never fully guaranteed on the internet.
That's why cybersecurity companies have come up with VPN services that offer top-notch protection for your private information and allow you to browse the internet freely without any restrictions.
In this article, we'll be discussing the top 10 best VPN services available in the market today, so you can choose the one that's right for you.
What Is A VPN?
VPN stands for Virtual Private Network. It is a service that ensures the safety of your privacy and data online. It is a highly effective service that hides your personal data and online activities from prying eyes.
VPN encrypts your data so that it becomes highly difficult for any outside source to track your online activities or steal your data.
Whether you chat with a colleague, browse through your favorite websites, deal with online transactions, or simply surf casually on the internet, VPN will protect every single data of yours.
How Does A VPN Work?
A VPN converts your entire data into an encrypted form which passes through a secure private server instead of your internet service provider.
Hackers often set up fake public hotspots to steal your credit card details, passwords, and sensitive information.
A VPN secures your traffic on public Wi-Fi, keeping you safe from hackers. Your information passes through a VPN tunnel which ensures that your information remains safe and secured.
10 Best VPN Services of 2023 for Secure and Private Online Browsing
With so many companies creating their own VPN services, it becomes hard to choose the best one. To help you get over your dilemma, we have compiled a list of the 10 Best VPN Services easily available on the internet.
1. NordVPN
When looking for good VPN services, one cannot overlook NordVPN. NordVPN is one of the best VPN services and it fully protects your data from outsiders.
It employs some of the best security measures such as AES-256 encryption and the OpenVPN protocol along with its proprietary protocol NordLynx.
NordVPN also offers some additional features such as ad blockers, malware blockers, and also blocks malicious websites.
It uses multi-hops meaning your information will pass through multiple VPN tunnels, ensuring the full security of your data.
Its server is located in almost 62 countries; it allows access to more than 5000 servers and 6 devices to be simultaneously connected, all at a cost of $3.99 a month for a two-year plan.
Verified
Staff Pick
Get 59% Off NordVPN
3 Extra Months
✅ Stay safe online with the leading VPN service
✅ Detect malware during the download
✅ Block trackers and intrusive ads
2. Surfshark
Surfshark may not be as big as other VPN networks, but its speed and features compensate for that. It allows unlimited devices to be used at the same time.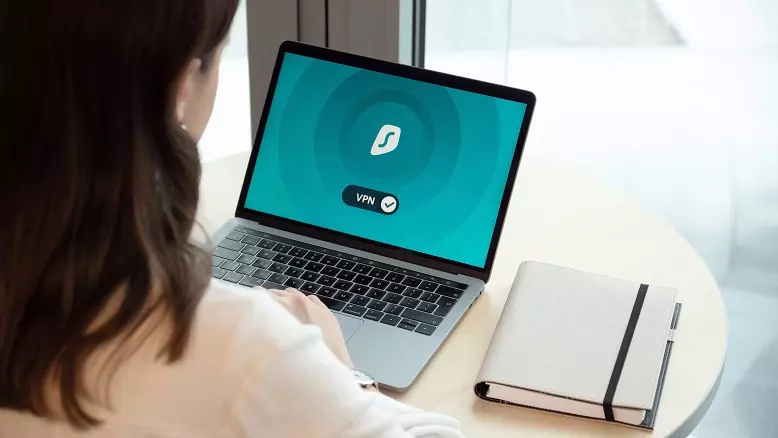 Downloading movies and shows through Torrent becomes easier with Surfshark as it changes your IP address every time you connect to the server. But if you wish to use the same IP address, you have that option too.
With its servers located in 65 countries, it allows access to more than 3,200 servers. It also offers ad and malware blockers and 24×7 expert support.
Verified
Staff Pick
An Award-Winning VPN With 81% Off
✅ Stability & speed with Surfshark's exclusive VPN technology
✅ Worldwide connections with 10 GBit servers in 100 countries
✅ A web without ads, trackers, or cookie pop-ups
✅ 30-day money-back guarantee
3. ExpressVPN
ExpressVPN is one of the best VPNs for streaming, gaming, and torrenting. Although a bit more expensive than other VPNs, it more than makes up for the cost with its amazing features.
It provides consistently fast speed across any distance and its split tunneling allows you to route some device traffic through a VPN while the rest accesses the internet directly.
ExpressVPN is currently the fastest VPN service, causing less than 2% of the internet speed to be lost. It has easy-to-use apps for Mac, Windows, Android, Linux, iOS, routers, game consoles, and Smart TVs.
4. Private Internet Access VPN
In the world of VPN, PIA or Private Internet Access is a well-known name. Launched in 2010, it has an experience of more than 10 years.
It is one of the best-reviewed and highest-rated VPN services on the internet. It works especially great on any Windows device but also has great features for iOS and Android devices.
PIA has a strict no-logs policy that has been court-tested and proven to be true. It also offers a 30-day money-back guarantee.
Private Internet Access provides access to over 30,000 servers across 78 countries and allows up to 10 simultaneous connections. And the best part is that you can avail of its high-speed and secured service at $3.33 per month only.
5. CyberGhost
CyberGhost is one of the best VPN services for users of all skill levels. It, too, uses AES-256 encryption to protect your data, and it's compatible with Windows, Mac, Linux, iOS, and Android.
CyberGhost even allows you to connect your extra devices such as a router, smart TV, fire stick, or game console to the VPN service. It has over 6,800 servers worldwide and protects up to 7 devices simultaneously.
The best part of CyberGhost is that it offers you a time period of 45 days to get a refund in case of any dissatisfaction. It is available at a cost of $2.29 a month for a three-year plan and $3.25 a month for a two-year plan.
6. IPVanish
IPVanish is the best choice for beginners who wish to understand the workings of a VPN. Equipped with WireGuard, IPVanish provides faster and more secure connections.
It allows unlimited simultaneous connections and is an excellent app for Fire TV Stick. Its multiplatform flexibility is ideal for people wishing for a Netflix-friendly VPN.
7. Proton VPN
ProtectVPN is a high-speed Swiss VPN that safeguards your privacy. It is a trustworthy service – its apps are open-source which allows anyone to inspect the code and the apps have been independently audited too. It is perfect for journalists and activists who wish to escape the barriers of internet censorship.
8. Windscribe VPN
Windscribe is your go-to VPN service if you are looking for a free VPN. Its free version unblocks most of the streaming sites whereas its premium version allows you to connect unlimited devices to its network.
9. TunnelBear VPN
While VPN services are great, some of them can be too complex for a beginner to navigate through. That's why the Canadian TunnelBear provides some of the simplest apps to use.
TunnelBear is the only VPN service to publish regular, independent security audits of its apps annually. While it is not the best in terms of power, speed, and unblocking abilities for demanding users, it can be worthwhile for those who have much simpler needs.
10. PureVPN
If you are someone who loves to travel, then PureVPN is the perfect choice for you. With a number of 7,500 servers in more than 78 countries including the UK, France, Argentina, Germany, Mexico, and many more, PureVPN allows you to travel safely without connecting to dubious public Wi-fi networks and running into internet censorship.
Final Words
So these are our top picks for some of the best VPN services. In today's world, no one's security is guaranteed, especially on the internet where technologies are more often than not used for illegal and unethical means.
With VPNs, you can relax and freely enjoy your time on the internet. Try out any of the above-mentioned VPNs for secure and safe surfing on the internet.