Before we get into the list of Free Movie Websites, let's take a step back in time. I remember the time when my brother and I used to rent CDs to watch a movie.
Since going to a movie theatre was not always an option, we had to wait for more than a year for any new movie to be available on the cable network.
But those times quickly slipped away. CDs became an artifact of the past and movie theatres turned into expensive multiplexes.
Times changed and streaming platforms like Netflix, Amazon Prime, Hulu, etc. became available.
But these platforms require a monthly subscription fee which adds to your monthly expenditures. This is when free online sites come to your rescue.
10 Best Free Movie Websites to Stream Your Favorite Movies for Free
However, there are a lot of sites that claim to be safe but actually infect your computers with viruses.
So we have compiled a list of ten completely free and safe online movie websites for you.
1. Crackle
Every list of free movie websites includes Crackle in its top 10 positions. Crackle is a pretty reliable streaming site as it contains an impressive array of movies spanning genres of romance, comedy, action, horror, documentaries, and many more.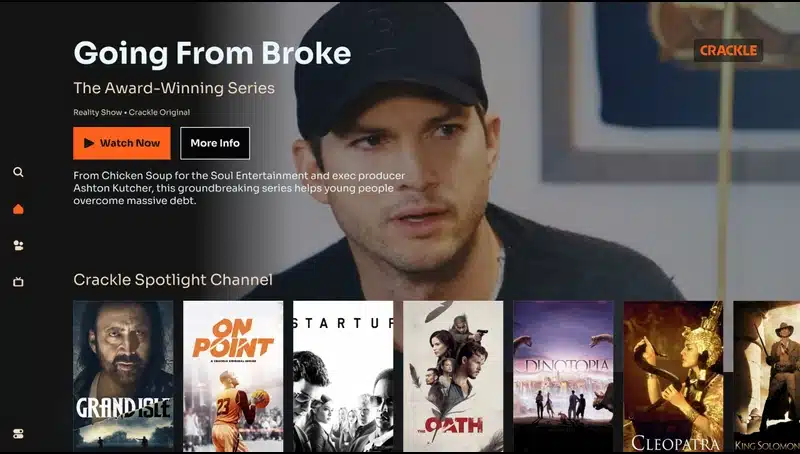 It is compatible with all operating systems such as Android, Windows, iOS, etc., and can be accessed through both your laptop and smartphone.
Additionally, it also works on many smart TVs and the good part is that the quality remains constant, no matter how big or small your screen is.
There are some ad interruptions but they are very short and few in number. The Crackle automatically saves your progress which resumes your movie from where you left it at.
2. PopcornFlix
As the name suggests, with Popcornflix, all you need is a bucket full of popcorn to enjoy a movie night to the fullest extent.
For people who prefer more mainstream movies and shows, Popcornflix is the perfect option. It has a clean, smooth, and easy-to-understand website layout.
In addition to their collection of old and recent movies from every genre, they also feature web and film school originals.
It has a resume playback which allows you to watch movies in pieces. While you can use the web browser easily, if you wish to watch movies on your phone or TV, you can simply download the app on Roku, Apple TV, Google Play, Amazon, and Xbox.
Unfortunately, you can't sort movies by date and popularity on Popconrflix, but keeping that aside, this is a great and reliable website for watching free movies with high picture quality.
3. Tubi
Tubi has quickly become a popular website for watching free movies. It has thousands of free movies and TV shows that can be easily accessed.
Some of them can only be rented but the majority of the content available on this website is free.
The interface is user-friendly and easy to navigate. There is no need for any registration and you can straightaway select any movie of your desire.
It also has some fun and unique genres such as 'LGBTQ+', 'Cult Classics', 'Bollywood Dreams', 'Not on Netflix' and more.
A great feature of Tubi is its kids' section – Tubi Kids. It is a separate section solely dedicated to movies for children like 'Toon TV', 'LEGO', 'Friendly Monster Films' etc.
4. Dramacool
If you are a huge fan of Korean dramas or movies like me, then Dramacool is the perfect website for you.
Dramacool is one of the best websites solely dedicated to Asian movies and shows.
It has a well-segregated list of Korean, Indian, Japanese, Chinese, and other Asian movies and shows according to the alphabet.
You can also manually search any movie by selecting the year, genre, country, and status. Dramacool updates its content quite quickly and there is no dearth of content.
The quality of the videos is good and it also has a resume playback feature and a multiserver option.
5. Yidio
Unlike other streaming websites, Yidio does not host its own content. It collects online movies and TV shows from paid and free services and organizes them into one easy-to-navigate UI. This makes Yidio's library look huge in size.
It is a fast-growing website with over 15 million monthly users accessing content from over 180 different content providers across Yidio's top-ranked iOS, Android, Kindle, and web apps.
It has many unique filters such as sorting movies based on IMDB rating, and Metascore, and also has a separate filter for rent and paid content.
6. YouTube
If you are looking for a website or app which is 100% safe and legal then you can't miss out on YouTube. Surprised? So was I.
I thought YouTube only had movie trailers and not full-length movies on its platform. But turns out, I was very wrong.
YouTube has a lot of full-length movies uploaded by its users (illegally might I mention) which are low in quality and are taken down very quickly.
But the service also has a good number of licensed films you can watch for free.
The benefit of YouTube is that it is free, legal, and ad-free for the most part. You can also find many popular movies which are on rent or for purchase at various costs.
7. PlutoTV
PlutoTV serves both as an online movie website and as a live streaming platform where you can simply watch TV shows and movies as they become available, just like on a cable connection.
It has a separate section for its on-demand movies and also has more than 250 channels that can be readily accessed for live content.
8. Vudu
Vudu is another great website for watching free movies online. There are thousands of movies to select from which you can easily watch by putting up with a few pesky ads.
You can also rent or buy your favorite movies and watch movies without ads for a better high-quality experience.
9. The Roku Channel
The Roku Channel allows you to binge-watch a wide range of movies and shows for free. The streaming service also gives you free access to Live TV.
There is no subscription fee involved, and you can watch the free titles available on the service through your Roku device or even a web browser.
The service even has a few exclusive new movies you won't find anywhere else.
10. Peacock
Peacock is a free online movie platform brought to you by NBCUniversal. It houses over 13,000 hours of content available for free.
Movies are organized under some fun categories such as '90s movies', 'Pride is Undeniable', 'Comic Relief', 'Controversial Movies', and more.
The only downside to this site is that you have to create an account to watch even the free content.
Also, its services are only available in select countries such as the US, UK, Ireland, Germany, Switzerland, Austria, and Italy.
Final Words
While most of these websites are available worldwide, some websites might not be available outside of some select locations.
But worry not; you can easily solve this problem with a good VPN service. So next time you wish to have a movie marathon, you know which websites to browse through.