In this article, we are going to talk about the sensational Instagram tool, Picuki. It is a very useful tool for Instagram users who want to edit photos and watch Instagram stories anonymously.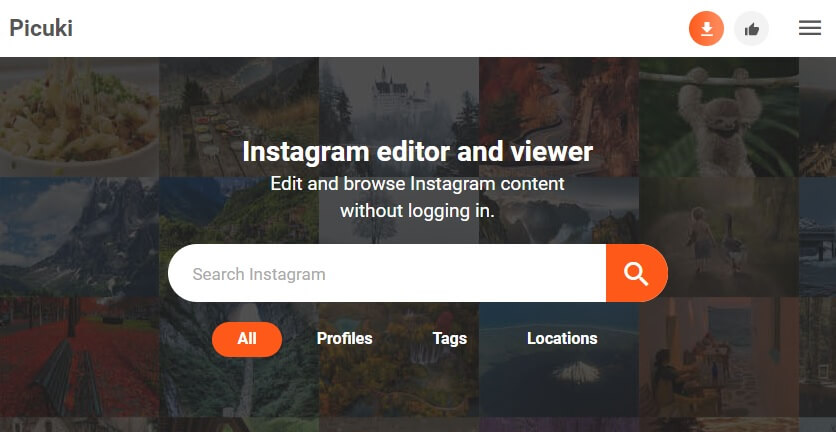 Instagram is one of the most popular social media platforms among teenagers and young adults. It has almost 1 billion monthly active users among which, 180 million are solely from India.
Everyone wants to gain hundreds and thousands of "heart reacts" as those red hearts make us feel beautiful and loved. While all this may seem superficial, it is our reality. And hence, apps like Picuki gained the spotlight.
What is Picuki?
Picuki is a trending, free online photo editor that provides users with a great way to edit their photos and create new and innovative designs. Picuki.com describes its website as an
"Instagram editor and viewer".
You can browse and edit Instagram profiles, stories, followers, posts, tags, and locations for an unlimited period of time and completely for free.
You can check your posts or your friends' profile posts, followers, and profiles that they are following.
You can also explore any Instagram tag, e.g. #happy, or check likes and comments under any post." It has a lot of features to enhance the beauty of your photos.
You can crop and resize your photos and even add different innovative and beautiful filters to them.
Watch this video to learn more about the Picuki:
What Are the Features of Picuki?
It has a lot of features, some of which are briefly listed below:
1. Edit Instagram Photos
One of the most important features editing Instagram photos. Many Instagram viewer apps do not provide the facility to edit photos. You can use this tool to edit or enhance your photos and videos.
It offers various editing functions such as crop functions, saturation adjustment, contrast exposure, and more.
You can also add various filters to your photos which are guaranteed to make your photos more attractive and eye-catching.
2. Trending on Instagram
Millions of hashtags are generated every day and Picuki helps you to discover what is trending, be it a hashtag, photo, video, or any reel.
3. Browse Anonymously
Sometimes we wish to browse through others' profiles, stories, and photos without leaving any traces of our presence. This becomes especially difficult in the case of viewing others' stories.
Now, you can view stories anonymously and your name won't be noted under the "viewers" section on Instagram. You can also download the stories and view them countless times whenever you wish to.
How to Use the Picuki Tool?
The Picuki has a very simple and user-friendly interface that works on any browser and mobile phone. You can use it in two ways:
You can look for images. You don't need an Instagram account, only the username of the Instagram account whose photos you wish to see is required.
The other way to search for photos is by searching for hashtags. When you enter a certain hashtag in the search bar, all the relevant and popular photos uploaded by various brands, profiles, and celebrities under that hashtag will be displayed to you.
Both these ways make it easier to search for Instagram photos and videos anonymously.
How to Use Picuki to Edit Photos and Videos
One of the basic and most important features of Picuki is its facility for editing photos and videos. You can use it to modify your and others' photos.
For instance, if you like a photography account's picture then you can edit that picture online. After making the required adjustments, you can download the picture on your computer or mobile phone. You can also edit your own photos through the following steps:
Step 1: Open the Picuki on your browser.
Step 2: Log in with your Instagram account. It will pull up the list of all your recent posts.
Step 3: Tap on the photo you wish to edit. Tap on the 'edit' option in the right-hand corner. Your post is now ready to be edited.
Step 4: Finally, when you are done with the editing process, tap on the 'Save' option.
Make the necessary changes to the post. You can add text, crop the photo, adjust its brightness, and even add filters.
How Safe is Picuki?
Picuki is a completely safe and legal application. Unlike many other Instagram viewing and editing apps, it does not store any information about its users.
You can use it to edit your photos, view stories, and download them for free, without having to worry about your privacy and data.
More Like Picuki:
Conclusion
For anyone who wishes to experience Instagram without creating an Instagram profile, it is the most suitable application. You will also be able to edit photos and videos through it. So what are you waiting for?